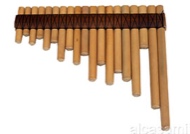 RONDADOR
A wind instrument made of different-sized pipes of fine hollow canes bound together by a fibrous string.
El rondador es un tipo de zampoña típica del Ecuador. Se fabrica con cañas de carrizo y también, más restringidamente, con cañones de plumas de cóndor. Posee un sonido cristalino muy característico.
Alterna dos escalas pentatónicas, de tal manera que el intérprete puede tocar más de una nota por vez. Suele utilizarse para ejecutar san juanitos y otros ritmos andinos.